Food Processing Machinery Cutting Edge Worldwide
No engineering company in Oceania comes close to rivaling Napier Engineering & Contracting in its vertically integrated involvement with the meat industry. It starts with the design and production of the company's world renowned NIVEN brand of diversified processing equipment through handling and refrigeration through to the turnkey design and implementation of abattoirs. Projects have been completed throughout the Pacific, the Middle East, the Americas and Russia.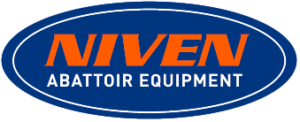 The company brings to bear on the meat industry its experience over many years and across all contributing technologies: Equipment design and construction, machining, fabrication, materials handling, pressure vessels, and refrigeration.
This continuing applied experience ensures that the company is always aligned with industry innovations, and remains the region's one-stop-workshop for abattoir and freezing works projects.
The turnkey project experience is continually sharpened by enhancing our own Niven Series processing equipment. This is especially so with the Niven industry-standard range of rendering applications.
In recent times ovine skin hydraulic presses have left our Napier works for Thomas Foods International, Adelaide. These feature horizontal as well as vertical platens that confer the benefit of automated positioning of the skins prior to compression and strapping, This, in turn, ensures correct pallet positioning, and thus safe and secure loading.
These PLC stainless steel presses adhere to our enduring and overarching safety imperative by having standard RFD sensors. In addition, the presses can be operationally configured and reconfigured remotely.
A hallmark of Napier Engineering is that no detail is overlooked.
A new development has been the introduction of a range of tightly enclosed rotary slicers designed to comply with new rendering specifications in the tallow sector. This new member of the company's Niven equipment range is available across the capability demands of the sector.